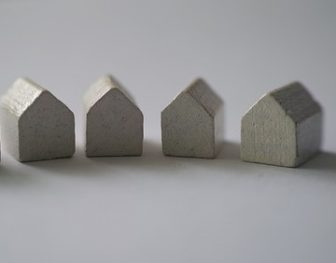 UK house prices in September were 5.3% lower than a year earlier, matching the decline recorded in August which was the biggest annual fall since 2009, figures from Nationwide showed yesterday.
In month-on-month terms, property prices were unchanged last month after a 0.8% drop in August, Nationwide said.
The price of an average home was £257,808 in September, nearly £14,500 lower than a year earlier.
Robert Gardner, Nationwide's chief economist, commented: "This relatively subdued picture is not surprising given the more challenging picture for housing affordability. For example, someone earning an average income and purchasing the typical first-time buyer home with a 20% deposit would spend 38% of their take home pay on their monthly mortgage payment – well above the long-run average of 29%."
Industry reactions:  
Matt Thompson, head of sales at Chestertons, said: "Since the Bank of England's announcement of interest rates remaining at 5.25% for the time being, we have seen a positive response from buyers in September who felt more secure to make financial decisions and resume their property search.
"Understandably, buyers who are now entering the market are particularly careful about their budget and factor in any future rate hikes as well as the cost of living. As demand for properties in the capital continues to outstrip supply, the market remains competitive."
Tom Bill, head of UK residential research at Knight Frank, commented: "Fourteen consecutive rate rises have taken their toll on the property market but more stable lending conditions means buyers and sellers will be able to catch their breath.
"The number of people rolling off more favourable fixed-rate mortgages won't fall in 2024, but sentiment should improve as volatility reduces. We think most of the UK's house price correction will happen this year and modest single-digit annual growth will return after the next general election."
Nicky Stevenson, MD at Fine & Country, remarked: "Average house growth was flat in September, with properties increasingly going on the market with realistic asking prices as sellers adjust to buyers' squeezed affordability.
"Although prices may still experience some ups and downs in the coming months, last week's base rate decision strengthens forecasts that the property market will experience a soft landing.
"The suggestion that we have nearly reached a peak in interest rates will provide buyers with a lot of confidence, especially since mortgage lenders are already slashing their rates in response.
"This should help the property market experience an extra bump in activity this autumn, alongside the traditional seasonal spike in demand, with many sellers already deciding this is a good time to put their home on the market."
Jeremy Leaf, north London estate agent, stated: "Although the Nationwide house price index is an historically-reliable indicator of market health, broader economic factors are just as compelling. Successive increases in base rate and lender nervousness have meant those with cash have been playing a more significant role now that buyers continue to hold sway.
"In our offices, we are not seeing talk of a market correction – rather, promising signs of falling mortgage rates, though modest so far are encouraging viewings and helping to keep existing sales alive."
Jonathan Hopper, CEO of Garrington Property Finders, commented: "This may be the first ray of sunshine in what has been a gloomy market for many months.
"The unravelling of the post-lockdown boom still has some way to run, but based on today's Nationwide data, there are tentative signs that the pace of price correction may be levelling out.
"If interest rates are near their peak, this may provide some much needed clarity and confidence back into the market.
"Make no mistake, we are still in a very price sensitive market, but if the rate of price falls is levelling out and spiralling borrowing costs are easing, this bodes well for the market going into autumn.
"While we're still regularly seeing homes sell for tens of thousands under asking price as proceedable buyers press home their advantage, September did bring some respite from the correction's underlying cause – interest rates.
"Better interest rate stability coupled with falling prices should slowly improve affordability in coming months, even if buyers remain wary of paying a price today that could be lower tomorrow as the market settles further.
"While some property types – typically new-builds in areas with abundant supply – are still seeing prices plunge, the pain for sellers is not universal.
"Many cash buyers are sensing that now is a good time to strike, and even mortgage-reliant buyers who need and want to move continue to do so, albeit with a healthy dose of caution and factoring price risk and higher borrowing costs into what they're prepared to pay."
Jason Tebb, CEO of OnTheMarket, said: "With prices remaining flat in September, opportunities are emerging for motivated buyers who want to get on and complete their property purchase this side of Christmas.
"Affordability remains stretched for those relying on mortgages to fund their purchases but lenders continue to reduce their pricing on the back of dipping Swap rates, which over time will help ease the situation.
"Buyers and sellers alike will be hoping that September's pause in interest rate rises means we have seen the back of consecutive increases, which will boost confidence.
"Sellers who are serious about moving are finding that while there may be fewer buyers out there, they are focused rather than speculative but also hyper-sensitive on price and won't pay over the odds."
Iain McKenzie, CEO of The Guild of Property Professionals, said: "It's been a year since the impact of the so-called 'Mini Budget' began to unfold, and the property industry is still feeling the effects.
"The figures indicate that affordability is still playing on people's minds when it comes to getting their foot on the ladder. First-time buyers are hesitant to take on a mortgage they can't afford.
"Until confidence is fully restored, we should expect house price growth to remain flat, as sellers are forced to be more flexible on their asking price and buyers struggle to put funds aside for their deposit.
"Cash remains king for buyers that don't have to rely on a mortgage being approved. A year of high inflation and interest rates has caused borrowing to become difficult.
"The demand for good quality housing is keeping prices from dropping sharply. The inflated rental market means that those looking to get on the ladder are still as eager as ever. Another fall in house prices will be welcome news to many potential buyers."
Simon Gerrard, MD of Martyn Gerrard, added: "The fact that house price growth has remained unchanged in the past month could be a sign that buyer confidence is starting to return. With inflation starting to come under control, and the Bank of England deciding to freeze the interest rate this month, there are hints of recovery.
"There will still, however, be concern that the freeze is just temporary and rates could still climb again, and so many people will be looking for the base rate to actually come down before we see full buyer confidence restored.
Mortgage lenders can provide some assurance by responding to the freeze in the right way and reducing their rates, but even by reducing the base rate by a quarter of a per cent, the Bank of England would provide an even greater boost to buyer confidence. Nonetheless, fundamentally, there is an increasing demand for housing and a dearth of supply. So long as this remains the case, any drop in house prices will always be a temporary phenomenon.
"A lot of recent market activity has been driven by cash and unencumbered buyers, as well as those who have already secured a more reasonable mortgage and are chain free. Being able to move quickly is always a key advantage in a property search, and once buyer confidence is fully restored, those looking for a home will not have the luxury of time. People should be mindful of this fact now, or they will find they are trailing the pack once the Bank of England fires the starting pistol by lowering the base rate.
"What we also need to hasten activity picking back up is more of a sense of urgency from both professionals working in the property sector and buyers themselves. The hesitancy with which people are currently approaching buying a house is, of course, understandable.
"However, we're seeing solicitors, for example, struggling to prevent their clients from just walking away from a deal and to take a view on issues that they otherwise would do if the market was moving faster."
UK house prices set for a steeper-than-expected fall this year
Daily news email from EYE

Enter your email below to receive the latest news each morning direct to your inbox.